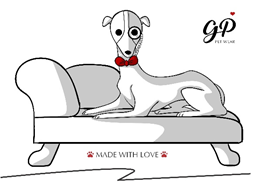 ABOUT US
An introduction by the creator of the brand GP Pet Wear.
A little story about the brand's purpose and ethical values; a combination of comfort, sustainability, the sharing of ideas and much more.
PRESENTING THE CREATOR OF THE "GP PET WEAR" BRAND
By Samuel.
I'm a whippet called Samuel, my mother is called Pink and she's the creator of the brand and the designs of the pet wear.
She's a human who loves dogs the most in the whole universe. Our feelings and instincts are intertwined with hers and this is evident in her perception and ability of improving our everyday lives.
My mother named her brand due to scientific research that shows that 84% of the DNA found in humans is identical to the DNA found in dogs. Therefore, we are people's furry friends and in Brazilian Portuguese we say "Gente Peludinha", so, the brand GP Pet Wear was created.
In her childhood, my mother showed great affinity for the creation and the process of making clothing, starting with doll clothes. Later, she became a very successful lawyer, but kept her passion for clothing alive. For many years she observed others and reflected in her passions, and finally created her line of dog clothes.
From the moment I arrived she started making all my clothes. I was a bit different from other dogs! Skinny and long, with a prominent chest, nothing that she could buy from a shop was comfortable or looked good on me.
So, mom let go of the frenzy of Law, took a bunch of courses in Animal Modeling at Marcia Dória (Professional Fashion School); manual and vector drawing; CAD (Software for digital design) and Industrial piecing at SENAI.
To create the clothes with precision, she works with the system CAD that is world renowned in fashion technology innovation.
I am the official model of the brand, especially when it comes to Paper Piecing! In 2017, Pink created the GP Pet Wear brand in order to dedicate herself to her latent passion, "the beautiful art of pet tailoring". She created and patented clothing that complements our flexibility.
Mummy says that we live in disruptive and complex times, and technology has made humans lonely, so us dogs are there to give affection and support. She also says that, during the journey that dogs have taken over the centuries, never have our abilities been studied and praised as they are now, that our mission on earth is to help humans with our amazing sense of smell, vision, instincts, agility and loyalty.
IN HONOUR OF DOGS.
By Pink
Dogs share their emotions with us; therefore they deserve the best, including smart clothes developed for luxury, comfort, and practicality.
For these reasons, the expression of our brand is artisanal, tied together with techniques of Haute Couture and tailoring.
We believe that what makes a brand beautiful needs to be expressed in all facets of it, such as packaging, gift wrapping, accessories and, especially in the internal and external finishing of our clothes
If we consider that undressed dogs are the highest expression of their natural aesthetics, when dressing them in protective clothing, the beauty of their bodies should not be obscured.
"Our brand perfumes the air with friendship"
ETHICAL VALUES
The ethical values of our brand are expressed in the durability of our clothes; the hugging sensation that the soft and flexible touch of the natural fabrics provide to dogs; the use of smart synthetic fabrics that provide UVA and UVB protection (certified by Rhodia of Brazil International Solvay).
Every one of our pieces contain thorough descriptions and care guides, such as tags with the composition formula of the materials, and tags containing their unique sizing and breed identification.
The brand also prides itself in resolving any issues with a multitude of different ways to get in contact, such as our website, Instagram, Facebook, WhatsApp, Email and Phone numbers.
"Made with love"
BRAND'S PURPOSE
The purpose of our brand is to defend values and causes beyond the sale of our product, not for monetary gain. We support the "Dogs without homes" movement. For homeless dogs, the street is their universe. The best solution would be to create a "hostel" for these homeless dogs. A project for vaccination, deworming, treatment of diseases, feeding, identification and protection from the cold, with their return to the streets, it will allow improvement the behavior of dogs and humans. It will be necessary to engage businesses, the local government and the citizens to feed them and give protection from street violence. It is essential to raise awareness of the priority of homeless dogs when crossing the street; and also, the awareness of pedestrians to help them on dangerous crossings ...
To remove them from the environment in which they grew up, is to limit their freedom.
"Dogs love the street; they exhale all the smells in the world"
SUSTAINABILITY
We are aware of sustainability efforts, so we produce clothing with resistant, breathable and durable materials.
We use computerized systems to maximize the efficiency of our fabrics and minimize waste. Our cutoffs are reused in artisanal methods.
The durability of our clothes contributes to a reduction of fashion waste.
Our clients are pet owners, who are conscientious and aware of their choice when looking for clothing for their animals. Our brand is also a consolidation of their own ethical values.
"The awareness of consumption will save the Earth from destruction"
SHARING
The sharing of opinions, ideas and information allow for the creation of new ethical concepts that contribute to the innovation and improvement of our products.
The sharing of everything that involves our brand with our clients brings us closer, and together we can develop new styles of protective clothing that adjust to different species and breeds in the pet world.
The credibility, the ethics and sharing, weave the connection between GP Pet Wear and our clients.
"We are a window for innovative ideas"